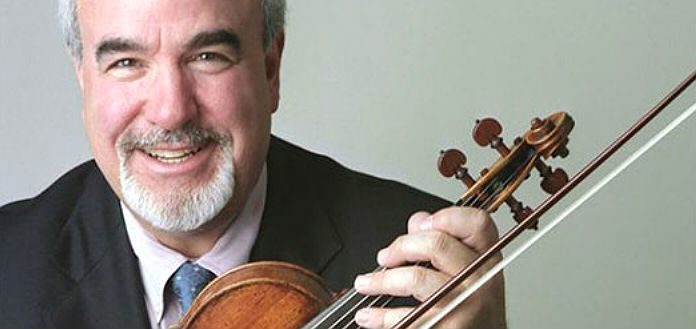 The Violin Channel recently caught up with former New York Philharmonic Concertmaster, Glenn Dicterow - for a fun game of VC Desert Island Downloads. 
We sat him down to pick his brain on which 5 CD recordings he would take with him to a deserted island - and how the tracks have helped shape him as a musician.
"My first exposure to any recorded music was through my father (Harold Dicterow, long time Principal 2nd Violinist of the Los Angeles Philharmonic). He had a sizable collection of 78's that he would encourage my brother and I (budding fiddle players) to listen to. I remember being riveted by Heifetz's first recording of the Glazunov and Sibelius Concertos. They were played so absolutely phenomenally. However, listening to 78's was also frustrating because we would to have to flip and turn over the records every 3 to 4 minutes.
When the LP was finally introduced my father frequently brought home new recordings. The first one I was crazy about included Sibelius's Finlandia played by the Philadelphia Orchestra (Ormandy). My brother and I would pretend to conduct this dramatic work as it was playing showing off in front of each other.
Then my father bought us Nathan Milstein's recordings of the Bruch G minor Concerto with the Mendelssohn's Concerto on the other side (w/ Pittsburgh Symphony, William Steinberg conducting). I was totally swept up with Milstein's unique sound and his inimitable clarity. He remained a huge influence in my approach to making music throughout my life. The next Milstein recording I fell in love with was his Goldmark Concerto (conductor Harry Blech). It remains one of the all-time great performances by any violinist.
A few years later I became close with Henryk Szeryng who gifted me with several of his LP recordings. My favorites were: Tchaikovsky, Lalo, Prokofiev #2, Brahms and Beethoven.
Then Heifetz recorded the Bruch Scottish Fantasy (with Sir Malcolm Sargent and the New Symphony Orchestra of London) and history was made. This is without doubt one of the greatest violin recordings of all times. This genius manages to transform this good work into a great masterpiece, something no one else has been able to do.
As for symphonic repertoire I would have to say my favorites are Mahler Symphony Nos. 2, 3, 5 and with Bernstein conducting the NY Phil.
Zubin Mehta's Strauss tone poems are fantastic as well, especially the Alpine Symphony and Also sprach Zarathustra.
My favorite chamber music recordings were performed by the Guarneri String Quartet and the Hollywood String Quartet.
My favorite pop recordings are of Sinatra, Streisand, Tony Bennet and Ella Fitzgerald.
But now the hard part ... If I must select only 5 recordings to take with me to that island you speak of, here it goes:
1. Nathan Milstein's Goldmark Concerto with Harry Blech and the Philharmonia Orchestra
2. Nathan Milstein's Mendelssohn and Bruch Violin Concerto with William Steinberg and the Pittsburg Symphony Orchestra
3. Jascha Heifetz's Bruch Scottish Fantasy with Sir Malcolm Sargent and the New Symphony Orchestra of London
4. Mahler: The Complete Symphonies with Leonard Bernstein and the New York Philharmonic
5. Classical Barbra: Barbra Streisand with conductor Claus Ogerman & Columbia Symphony Orchestra
Next time please allow me to bring at least 10 recordings with me to this island.
- Glenn"