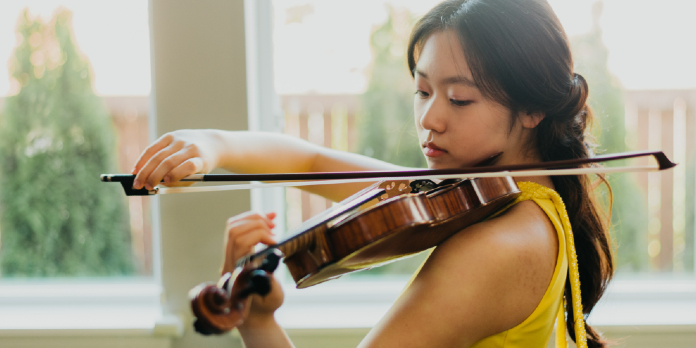 A student of Simon James and Shmuel Ashkenazi, Sophie is the recipient of a 2019 Salon de Virtuosi Career Grant and was awarded 1st prize at the 2016 Junior Menuhin Competition, in London, aged just 12.
Sophie's recent solo engagements include performances with the London Philharmonia, Berlin Konzerthaus Orchestra, Seattle Symphony, Richmond Symphony Orchestra, Orchestre de la Suisse Romande, Orchestre des Cameristi de la Scala, Bremerton Symphony, Detroit Symphony and Calgary Philharmonic.
She currently performs on the 1687 "Ex-Bello" Antonio Stradivarius on generous loan from Rare Violins In Consortium Artists and Benefactors Collaborative. 
VC YOUNG ARTIST YESONG SOPHIE LEE | BEETHOVEN | ROMANCE NO. 2 IN F MAJOR | RUNE BERGMANN & CALGARY PHILHARMONIC ORCHESTRA | 2020
VC YOUNG ARTIST YESONG SOPHIE LEE | PAGANINI CAPRICE NO. 4 | 2020
VC YOUNG ARTIST YESONG SOPHIE LEE | BEETHOVEN | ROMANCE NO. 1 IN G MAJOR | RUNE BERGMANN & CALGARY PHILHARMONIC ORCHESTRA | 2020
VC YOUNG ARTIST YESONG SOPHIE LEE | GRANTHAM | BLACK EYED SUZY | 2019
VC YOUNG ARTIST YESONG SOPHIE LEE & DMITRI BERLINSKY | LECLAIR SONATA OP. 3 NO. 5 | 2019
https://vimeo.com/449086045
VC YOUNG ARTIST YESONG SOPHIE LEE | KREISLER | RECITATIVO & SCHERZO | 2020
Name: Yesong Sophie Lee
Violin: 1687 Antonio Stradivari, on loan from Rare Violins in Consortium
Bow: Charles Peccatte
Strings: Thomastik endorsed artist performing on Thomastik Dominant
Accessories: Magic Shoulder Pad | Gustave Bernardel Rosin
Teacher: Simon James | Shmuel Ashkenasi
School: Henry M. Jackson High School