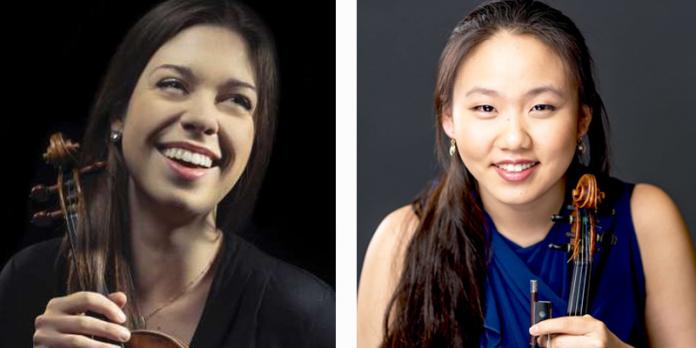 Violinists, Stella Chen and VC Artist Tessa Lark have this week been announced as recipients of 2020 Lincoln Center Awards for Emerging Artists – in New York City.
The annual prizes honour outstanding artistry and serve to acknowledge the promising future of selected performers within the 11 resident organizations of the Lincoln Center.
The 2020 recipients are:
Violinist Stella Chen
Violinist VC Artist Tessa Lark
Director Lileana Blain-Cruz
Mezzo-soprano singer Emily D'Angelo
Dancer Ruby Lister
Clarinetist Sebastian Manz
Trumpet player Riley Mulherkar
Filmmaker Akosua Adoma Owusu
Dancer Unity Phelan
Composer Ellen Reid
Producer Jennifer Ashley Tepper 
A graduate of the New England Conservatory and Harvard University, where she studied with Donald Weilerstein and Miriam Fried and current student of Li Lin, Catherine Cho and Donald Weilerstein at The Juilliard School, Stella is a former prize winner at the Tibor Varga International Violin Competition and the Menuhin Competition - and in May of this year was awarded 1st prize at the 2019 Queen Elisabeth International Violin Competition, in Brussels.
A graduate of the New England Conservatory and The Juilliard School, where she studied with Miriam Fried, Lucy Chapman, Sylvia Rosenberg and Ida Kavafian, Tessa is a former major prize winner at the Indianapolis, Michael Hill and Naumburg International Violin Competitions – and is a recent recipient of a prestigious Avery Fisher Career Grant and Leonore Annenberg and Borletti-Buitoni Trust Fellowships.
"The arts are fundamental to our world, and it is Lincoln Center's responsibility to support the voices of diverse, fearless, and extraordinary artists ..." Lincoln Center for the Performing Arts President Henry Timms has this week said.
"The Awards for Emerging Artists unite our campus organizations to celebrate those creatives who imagine big and take risks," he has said.
"The caliber of artists recognized by the Emerging Artists Awards is extraordinary year after year and 2020's cohort is a truly impressive and exceptionally talented group," Lincoln Center for the Performing Arts Artistic Director Jane Moss has said.
The awards will be presented as ceremony on the 27th of February, 2020 – at the Lincoln Center.