Prizes Awarded at Prague's Oskar Nedbal International Viola Competition
MinGwan Kim from South Korea has been awarded 1st prize at the 2019 Oskar Nedbal International Viola Competition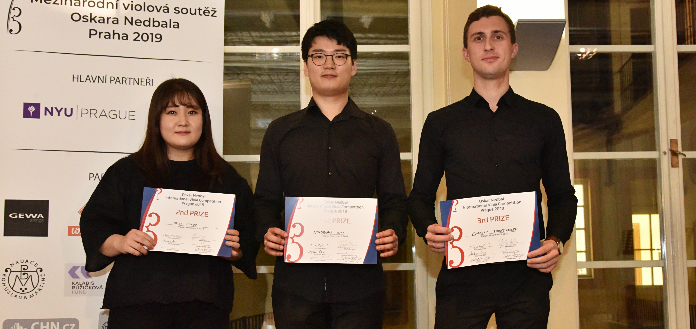 MinGwan Kim from South Korea has been awarded 1st prize at the 2019 Oskar Nedbal International Viola Competition – in Prague, Czech Republic.
A graduate of Berlin's Hochschule für Musik Hanns Eisler where she studied with Walter Küssner and current post graduate student of Harmut Rohde at the Berlin University of Arts, MinGwan is a former prize winner at the Jan Rakowski International Viola Competition.
He will receive 20,000 CZK, a viola bow by Luboš Odlas, a GEWA viola case, Finetune pegs by Wittner, a Pirastro KorfkerRest shoulder rest and 2 sets of Pirastro Evah Pirazzi strings.
2nd and 3rd prizes were awarded to Yuri Yoon from South Korea - and Evgeny Shchegolev from Russia.
The 2019 jury comprised: Tim Frederiksen (Head), Stephanie Baer, Sheila Browne, Kristina Fialová, Jan Pěruška and Jensen Horn.