Candidates Announced for Geneva International Cello Competition
This year's opening round will be held online from September 13-18 — with the semi-final and final stages to be hosted in-person in Geneva from October 23-29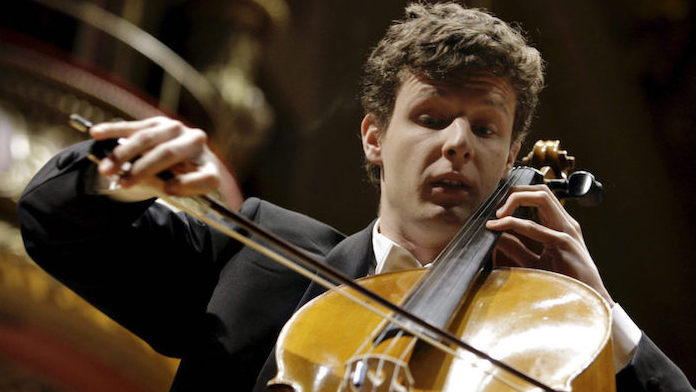 2008 Geneva International Cello Competition 1st prize winner István Várdai from Hungary
37 candidates were selected for the opening round of this year's cello competition — which was originally scheduled for 2020 but was postponed due to the pandemic.
Open to cellists aged 14 to 30, this year's first prize winner will receive CHF 20,000 plus an invitation to join the competition's two-year career development program — providing valuable career advice and coaching plus concert and recording opportunities.
Approximately 10 laureates, from this year's competition, will also be invited to join a special workshop to discuss important industry and career-starter topics with a panel of experts, including career strategies, how to get the appropriate attention of agents, presenters and producers, and the basic know-hows of contracts, rights and health.
The opening-round candidates for this year's cello competition are:
Johannes Gray (24, United States)

Mauro Paolo Monopoli (21, Italy)

Hayoung Choi (23, South Korea)

Anton Spronk (27, Switzerland/Netherlands)

Milena Umiglia (23, Switzerland)

Maria Zaytseva (19, Russia)

Jaemin Han (15, South Korea)

Samuel Niederhauser (23, Switzerland)

Joanna Twaddle (25, United Kingdom)

Ivan Skanavi (24, Russia)

Raphaël Jouan (27, France)

Willard Carter (19, United Kingdom)

Bryan Cheng (24, Canada)

Oleksiy Shadrin (28, Ukraine)

Chase Park (23, United States)

Daniel Thorell  (23, Sweden)

En-Chun Lin (20, Taiwan)

Anouchka Hack (25, Germany)

Marcel Johannes Kits (26, Estonia)

Jakyoung Huh (23, South Korea)

Aaron Wolff (27, United States)

Florian Pons (26, France)

Min Ji Kim (26, South Korea)

Rolando Fernandez (30, Mexico)

Michiaki Ueno (25, Japan)

Constantin Macherel (30, Switzerland)

Christoph Croisé (27, Switzerland)

Alessandra Doninelli (26, Switzerland)

Leland Ko (23, United States)

Matthias Balzat (22, New Zealand)

Christoph Heesch (26, Germany)

Stéphanie Huang (25, Belgium)

Jeremias Fliedl (21, Austria)

Maxime Quennesson (26, France)
The 2021 jury comprises Ivan Monighetti (Chair), Thomas Demenga, Michaela Fukačová, Ophélie Gaillard, Clive Greensmith, Qin Li-Wei, and Shauna Rolston.

"We will be hosting a hybrid competition this year — virtual for the first round and live in-person, in Geneva, for the semi-final and finals rounds," Didier Schnorhk, Secretary General of the Geneva International Music Competition, told The Violin Channel.
"We this year lowered the application fees, to take into consideration the financial difficulties of our young artists, and we have also financially and technically supported all first round candidates with recording their videos. This year, we have also made the decision to cover the cost of all semi-finalists invited to Geneva in the October," he has said.
"As you can imagine, these are all important changes we felt necessary to support our young musicians."
The final round of the cello competition will be held on 28 October at Victoria Hall, in Geneva, with conductor Georg Fritzsch and the Orchestre de la Suisse Romande.
As the official media and broadcast partner of this year's cello competition, all rounds will be streamed here on The Violin Channel and will be available for playback.