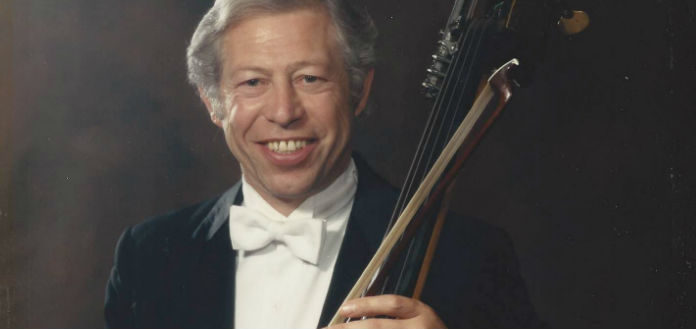 The Violin Channel recently caught up with The Juilliard School double bass pedagogue and technique book author, Professor Eugene Levinson.
In a VC-exclusive blog, Eugene discusses the inspiration behind his bass technique book, "The School of Agility" – and what he hopes students will take from its use.
"I was inspired to write The School of Agility because the double bass has historically been considered a second-rate string instrument compared to the violin or the cello. I believe that with the modern set up of the bass and the evolution of bass playing that we can step out of the shadows with agility and virtuosity. The large size of our instrument has commonly hindered bass players' ability to play without clumsiness. The School of Agility presents a fingering system that utilizes all four strings on the bass and all areas of the fingerboard, which was previously impossible with the inconsistent gut strings that we used to use. This system allows us to play even the most demanding passages with ease and sophisticated musicianship. This book is like an encyclopedia of fingerings for scales and arpeggios, which are the building blocks of music, so I believe that if a player utilizes this fingering system through daily practice, it will lay an extremely solid foundation for their technical approach to the instrument. 
For centuries the virtuosity of violinists has been instilled through a higher standard of training than we have had on the double bass. Following the violin's history of virtuosity, I chose to model the sequences of arpeggios in The School of Agility on the method of the great violin pedagogue, Carl Flesch. Each sequence of seven arpeggios resolves to the next key in the circle of fifths so that you can play through all twelve keys and cover all major, minor, diminished, and dominant arpeggios in every key. Fingerings are grouped together within each octave to link positions and large distances are covered seamlessly. This comprehensive approach to the instrument is necessary for raising the standards of our instrument.
The quality of bass playing has already improved so much in my lifetime and it is my hope that this book will continue to contribute to the elevation of the double bass as an equal and respected member of the string family.
-Eugene"
A graduate of the Leningrad Conservatory, Eugene Levinson has served Principal Bass positions with the Leningrad Philharmonic, Leningrad Chamber Orchestra, Minnesota Orchestra and the New York Philharmonic | He has held a teaching position on faculty at New York's Juilliard School since 1985 - and in 2003 was awarded a Special Recognition Award in Orchestral Performance from the International Society of Bassists for his "extraordinary skills and contribution to the worldwide community of bassists"