Was Violin Virtuoso Niccolò Paganini The Original Guitar Hero?
Russian classical guitarist Artyom Dervoed explains violin virtuoso Niccolò Paganini's secret affair with the classical guitar
Did you know that the violin virtuoso Paganini had a great interest in the guitar? Was he inspired by the guitar method in many of his violin compositions still loved today? Our curiosity led us to Russian classical guitarist Artyom Dervoed as he shares more about Paganini's secret affair with the classical guitar.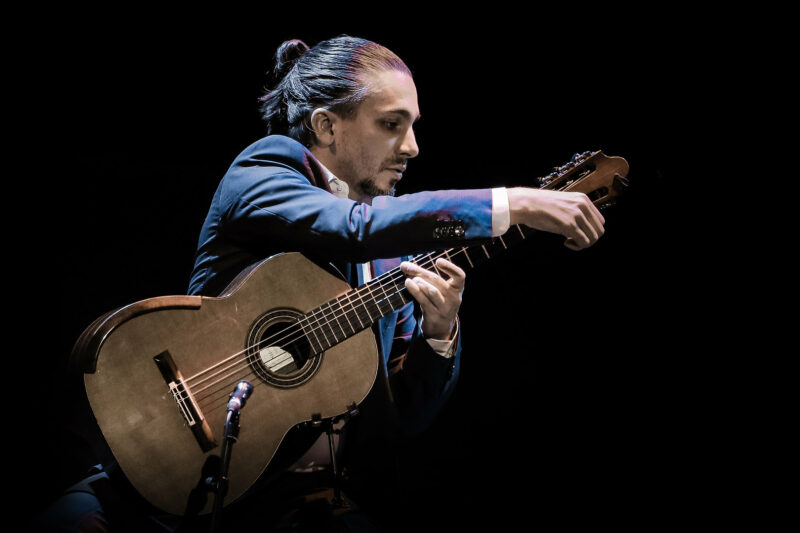 Classical Guitarist Artyom Dervoed on Paganini's Relationship with the Guitar
Niccolo Paganini is one of the most famous names in the history of all music, yet few people know that this legendary violinist was also an accomplished guitarist. A colleague of mine, who saw the posthumous cast of his right hand, pointed out that the length and shape of his fingernails not only serve as a proof of his passion for the instrument, but also suggest that he used a method of playing that was considered revolutionary at the time. The technique of using the fingernails to pluck the strings emerged in the 19th century, and has now become mainstream. Paganini remained in active contact with the top guitarists of his time, including Luigi Legniani, who created the cycle of 36 caprices for solo guitar, which are thematically linked to his own cycle of 24 guitar caprices.
Paganini was not known to give public concerts on the guitar, however, he often played it when he was among close friends.
Legend has it that at one point in his life Maestro left the stage for a few years. He is said to have spent this time on the estate of a lady friend, tending to her garden and playing the guitar. The evidence suggests that it was during this period that he wrote most of his guitar music, which includes 37 sonatas, 5 sonatinas, 43 ghiribizzi, and about a dozen other pieces for solo guitar, not to mention nearly 9 hours of music for the guitar and violin, as well as trios, quartets, and other chamber works. Interestingly, the Grand Sonata in A major, one of his first and most substantial works for the guitar, gives the very sophisticated leading part to that instrument and merely uses the violin for accompaniment. In general, the difficulty level of Paganini's guitar music suggests that he was not only aware of the instrument's capabilities but had actually mastered them to an impressive degree.
It seems that some of the technical innovations Paganini used to revolutionize the violin-playing, were actually inspired by various techniques of playing the guitar. Having been introduced to the basic principles of guitar-playing, one of my colleagues, who is a violinist, said: "If I spend a week practicing on a guitar, I will become a super-virtuoso on the violin." Perhaps, this was Paganini's experience? Apart from the obvious love for the instrument, Maestro also had practical reasons for bringing his guitar on tour. It was often described as a "portable orchestra" (some attribute this description to Beethoven, others to Berlioz).
It's worth mentioning Paganini's own guitars, which certainly contain a piece of his soul. Two instruments bearing his signature have survived. One of them is in Paris and, according to Yury Bashmet, "no longer has a voice". The other resides in a private collection in Italy. This guitar was made by the Italian luthier Gennaro Fabricatore in 1826 and has a spruce top and a maple back and sides. This is the instrument you can see and hear in the following video with a fragment of Paganini's Grand Sonata for Guitar and Violin, arranged for solo guitar and performed by yours truly.
-Artyom
ARTYOM DERVOED | PAGANINI | GRAND SONATA FOR GUITAR & VIOLIN (ARR. SOLO GUITAR) | 1826 FABRICATORE GUITAR 
Do you have an idea for a blog or news tip? Simply email: [email protected]
Artyom Dervoed is regarded as one the eminent classical guitarists alive today — with a growing international demand and active recording career. He recently gave recital performances at the Berliner Philharmonie, Kölner Philharmonie, Tonhalle Düsseldorf, Carnegie Hall and the Great Hall of the Moscow Conservatory. He serves teaching positions on faculty at the Gnesin Academy of Music and the Bashmet Center in Moscow — and is the co-founder and artistic director of the Guitar Virtuosi Moscow International Festival.