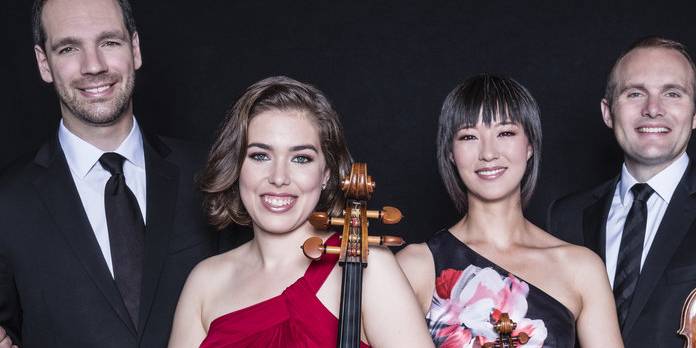 The Philadelphia-based Jasper String Quartet performing the world premiere performance of the four-movement 'Four Seasons' for String Quartet - by composers Christopher Theofanidis, Lera Auerbach, Akira Nishimura and Joan Tower.
Recorded live on the 6th of March, 2020 - at the Tucson Winter Music Music Festival, in Arizona.
"We chose four spectacular composers who each write wonderful chamber music and have significant connections to places that are magical in their respective seasons ... the combination of the four unique perspectives and styles of Lera Auerbach (Russia/Winter), Akira Nishimura (Japan/Spring), Christopher Theofanidis (New England/Fall) and Joan Tower (HudsonValley/Summer) resulted in a fascinating work ..." Jasper String Quartet cellist Rachel Henderson Freivogel has this week told The Violin Channel.
"We wanted to commission an evocative set of pieces that could stand together or alone by composers linked with formative experiences in our quartet's history ... we began this project about three years ago and asked each composer if they would be interested in being part of a multi-composer project - with each composer working independently ..." she has said.
"The complete cycle is also a testament to how different perspectives come together to create a much more complex work as a whole, in the same way that a successful string quartet is made up of different personalities who work together to find a way of including the best of each person to make a whole greater than the sum of its parts."
JASPER STRING QUARTET | 'FOUR SEASONS STRING QUARTET' | LERA AUERBACH | 2ND MVT - 'FROZEN DREAMS' | 2020