Violinist & Inventor Peter Kaman Talks Us Through His New Left Hand VioGlove
"The VioGlove is designed with the intension to improve left hand balance and reduce friction with the instrument's neck in order to smooth shifts, improve articulation, and help vibrato," Peter said.
The Violin Channel recently sat down with professional violinist Peter Kaman, inventor and designer of the new-to-market left hand VioGlove.
A graduate of The Juilliard School, Peter performed as a member of the Seattle Symphony first violin section for over 25 years.
While The Violin Channel has yet to endorse this product, we, just like you, are very curious to learn more…
Tell us about the VioGlove? What exactly is it and what do you consider to be its main benefits?
The VioGlove is the first glove in history, I understand, that's designed to help violinists, violists, and cellists improve every aspect of their left-hand technique!
Our trials and tests have shown, the microfiber pad can promote smoother, cleaner, and more effortless shifting and allow the left hand to be more friction-free. As a result, we've heard many times from musicians involved in the trial, that it's easier to play with it on as it takes much less effort.
The VioGlove also was also created with the intension to allow perfect spatial relationships between each finger, with the aim to give the left hand a new found freedom.
We've found it also molds and balances the hand more proportionally to the neck of the instrument, and as such vibrato can become more focused and trills can potentially become faster.
We've also found that the glove also helps to redistribute the tension in the left hand more evenly, so that finger articulation and coordination can potentially become more precise. 
I guess fundamentally, our learnings and testings have shown that the VioGlove trains or re-trains students, amateurs, and even professionals, to position the left hand in such a sound way, that moving up and down the fingerboard with confidence can potentially be easier and greatly improved. 
Where did this idea come from? And what's the need you are hoping to fill?
It's kind of a wonderful fluke that this product was discovered, actually. One can more accurately call it a 'serendipity.' 
In my 60 years as a violinist, I've constantly searched for better ways to play at the highest level. Even though I've had excellent training of four summers at Galamian's Meadowmount School, and five years at The Juilliard School, as well as thirty years as a professional symphony musician, teacher, and recording artist, my enduring love of music, (notably great violin playing) has been the single constant in my life. In other words, I've just never given up trying to be the very best violinist I could be. 
About a year ago, I went to a bike shop with a friend. I bought a nice bicycle and a pair of bicycle gloves so that I could protect my hands from a possible fall, or from a possible strain while riding. One day just for fun, I decided to cut down the finger fabric to the base knuckle of my hand and tried playing my violin with it. I'm always experimenting with different ways to play better and wanted to see what it would feel like if I wore a glove while playing my violin. As there are dozens of sports in the world, where world-class athletes wear gloves to enhance their performance, I thought, it might not be too much of a stretch, if just perhaps, string players could also benefit from something like this too.
I can honestly say, from the first moment I started to play with this modified bike glove on, my left hand felt stronger and I felt my double stops were much more stable, stronger, and focused. My trills felt faster, and my vibrato changed a little for the better because my whole hand felt more centered. Amazingly, even with a bicycle glove on it was just easier to play. Also, I found the microfiber pad in the palm of my hand allowed me to shift easier than I ever had before and I noticed that my fingers were more separated and it felt like they'd been given more freedom.
Then I remembered something that really made me think that I was on to something special. While I was attending Juilliard, the one violinist in my class, who in my opinion had the most beautiful hands, was Shlomo Mintz. And, one thing I noticed, was that Shlomo had beautiful wide spaces between each of his fingers. Reminiscing, it got me thinking maybe this is perhaps one reason why he played so much better than almost everyone else (Of course, there are many other reasons too). But my analysis at the time was that these equal spaces created by the bike glove, gave my own fingers wider spaces between each finger, in a similar way to Shlomo's hands, and that actually did make it significantly easier to play.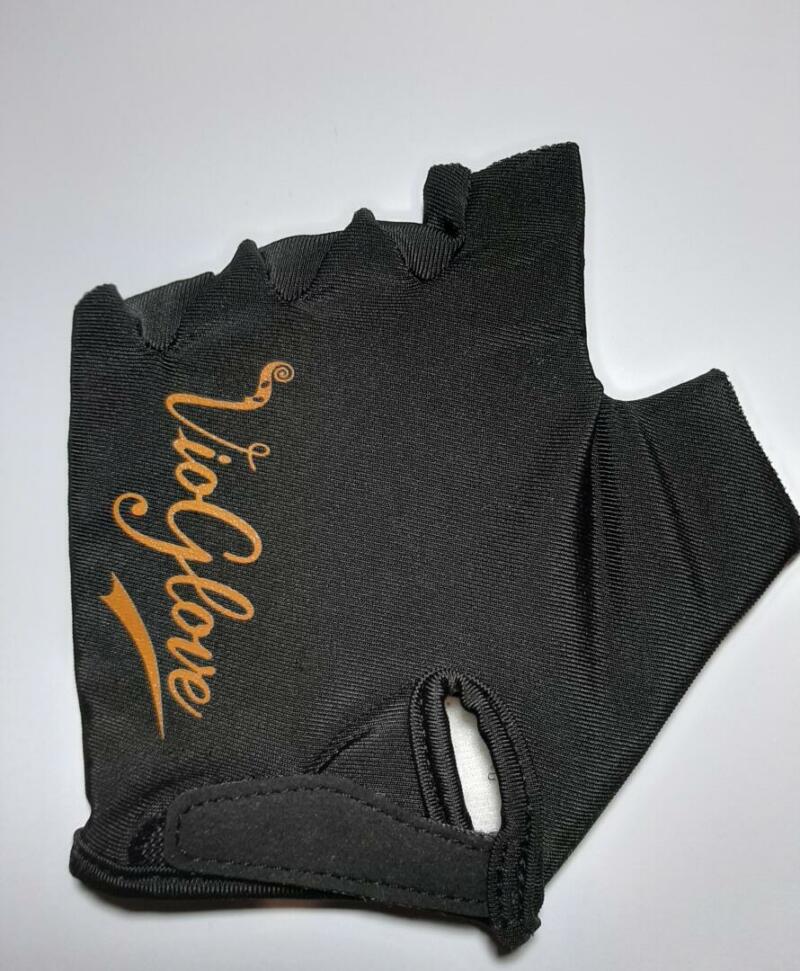 Is the one VioGlove you've recently produced appropriate for violinists, violists, and cellists? Or do they vary? And what about if someone has a small hand? Does it come in multiple sizes?
Yes, I do personally believe that every violinist, violist, and cellist can benefit from using the VioGlove. And, we specifically made it in 6 sizes to fit all hands. It comes in XS, S, M, L, XL, and XXL.
Is it more appropriate for a string player at a certain level? Or as beneficial for professionals as it is for beginners?
We do believe that everyone, from beginner to seasoned professional can benefit from using the VioGlove. 
Sung Duk Song, an excellent violinist and teacher, who studied with Ivry Gitlis and Ida Haendel, also described to us recently how in his professional belief the VioGlove could potentially help everyone at every level. 
"When I first put on the VioGlove, I felt like I immediately got special superpowers to play the violin AND viola better with less effort," Sung Duk Song told us in a letter. 
He went on to say: "Immediately, the glove gave me a stronger and more muscular feeling hand. Technically, I do feel wearing the glove also helped my intonation become more precise and consistent. My hands are small, but this VioGlove invention of yours seemed to give me hands like Itzhak Perlman."
And, from a teacher's perspective, Sung Duk Song noted that "I do believe the VioGlove can help beginner students from squeezing the neck and fingerboard and could help with more rapid development of left-hand technique — due to the better form and posture. And, for advanced students, I do think the VioGlove could potentially even provide a competitive performance edge."
Would someone use it during practice as well as performances?
Yes, of course.
Once you start to practice with it, you never want to play without it, we've found and been told. In fact, several fine well-known artists who have tested the glove for us, tell us that 'it's actually pretty addictive'.
We also purposely designed the VioGlove, so that players can wear it during performances, and the audience not be distracted by it. The back of the glove is black, matching the conventional concert dress, while the palm side microfiber is a brown color matching the color of a string instrument. 
Could you tell us who and what scientific testing it was put through?
While we did not work with physical health and ergonomic/physiological specialists in the development of the product, I can say we have sent the VioGloves all over the world to dozens of my professional colleagues who I asked to test the product for me.
After many violinists and colleagues tested the product, I can honestly say, all raved about it.
Astonishingly, 99.9% of the feedback we've received so far has been over-the-top positive. As it undoubtedly comes with the territory of a new invention, a couple of people have emailed me recently and asked: "Is this a joke?" But I wrote back and told them "it's definitely not a joke, and that it actually works incredibly well" and I then invited them to try it for themselves.
The truth is, that I never would have gone ahead and manufactured this product if I hadn't received such overwhelmingly positive feedback from some of the most respected players in the world.
Are there any well-known players who are already using the glove?
Sure. Most recently, I sent a sample to a good friend of mine, Daniel Phillips, who is a Professor of Violin at The Juilliard School, and a member of the Orion Quartet.
He wrote to me: "I tried it just now for about 10 minutes and yes already I did notice a tangible aid in all the aspects of the left hand, you described. I have been working for these kinds of things in my work over all my years, so this is definitely a day."
Are there areas you feel that can be improved in future versions?
Of course, we have just been on the market for only 2 months.
As soon as we get more feedback from players around the world, we are open to fine-tuning the product to make it even better and better. We are also now in the process of making another product for string players. The VioGlove is obviously for the left hand, and the new product will be for the right (but it's not a glove). It's in the early stages of development now. 
If someone is interested in buying a VioGlove how can they go about doing this?
If someone is interested in buying a VioGlove, they can go to our website at: www.vioglove.com.
I ask that people do please read about its many benefits and consider ordering it. On our 'Order our Product' page, we give easy instructions on how to measure your hand so that you receive the proper size VioGlove for your individual hand. Wearing the correct size is very important to get the best results.
You can enter now to win 1 of 5 violin, viola or cello VioGloves and try it for yourself. Each winner will receive the size that best fits their hand. Entries close Tuesday, July 27, 2021.
If you own a VioGlove yourself, we'd love to hear what you think.
Or, if you have invented something new for string players and musicians, tell us about it! We'd like to learn more.