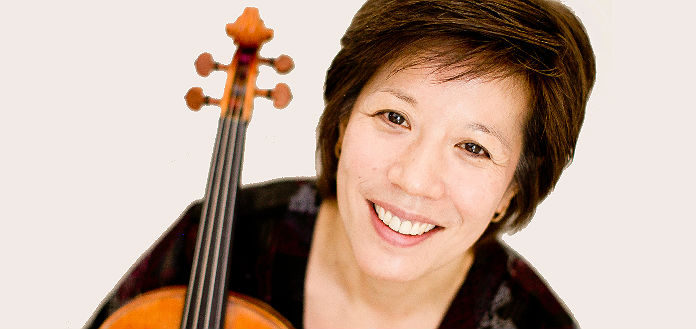 The Violin Channel recently caught up with Peabody Institute of Music viola pedagogue, Victoria Chiang.
In a VC-exclusive blog, Victoria discusses the steps she took to find success in her professional life - between graduating and winning a professorship.
"When I look back at how my career has developed, I feel very fortunate for the many opportunities that I have had.  It is a great privilege to be able to make a living in music - something that I love doing and something that has been a central and driving force throughout my entire life.
During my transformation from an eager viola student and teaching assistant at the Eastman School of Music to a professional, teaching and performing steadily throughout my career, there are two objectives to which I have aspired every day. In my playing - I am always striving to be a better musician and violist; and in my teaching - I want to enjoy and understand better every day the process of developing a student's talent and helping them realize their potential.
I was not a naturally gifted and well-formed player at a young age. My musical ability grew through daily discipline and meticulous work. My quest for more understanding in music and more ease in my playing has pushed me to continue growing.
As Heidi Castleman's student, I was obsessed with learning how to play well. I kept a diary with me at all times writing down questions and ideas for practicing and making myself a more complete musician.
Additionally, I was always interested in teaching. In fact, as a five-year old child, I remember hiding in my mother's walk-in closet with my violin and the door closed, pretending to give lessons! As Ms. Castleman's teaching assistant, I took advantage of each opportunity she gave me to experiment on different ways to build students' playing.  I was able to analyze their development with her and help with specific issues.
I have been fortunate in my career. Graduating from school and winning a job teaching and performing in a string trio at the University of Notre Dame, to teaching and performing opportunities at other schools, music festivals and concert venues, I have enjoyed professional positions that fit my passions as a pedagogue and a player.
In closing, there are three objectives that I try to live by:
1. Be grateful for every opportunity;
2. Make every opportunity a learning moment that you can grow from; and
3. Enjoy the process!
-Victoria"
Victoria Chiang has performed extensively as a soloist, recitalist and chamber musician across North America, Europe and Asia | A former student of Heidi Castleman, Masao Kawasaki, Dorothy DeLay and Kurt Sassmannshaus, she currently serves on faculty at the Peabody Conservatory of Music, in Baltimore and the Aspen Music Festival and School – and is a founding member of the internationally acclaimed Aspen String Trio