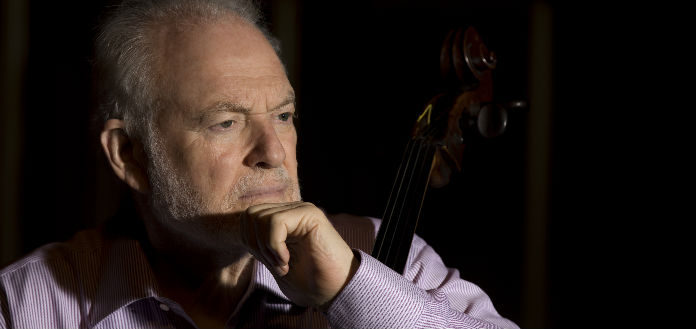 The Violin Channel member Andrea Rengevich from the United States was keen to know: "Once the notes have been mastered, what should be the next steps in learning a new piece?"
We threw Andrea's question over to renowned New England Conservatory cello pedagogue, Mr Paul Katz.
"Hi Andrea,
I'm sorry to say that I must disagree with the premise of the question! Music and technique are our "chicken and egg," forever intertwined and impossible to say which comes first. I'm a strong believer that music and technique ideally need to be considered simultaneously—even from day one they should grow and develop inseparably. I would even make the case that it's the music that comes first. A knowledge of the composer, style period, structure, harmony, along with our intuitive musical responses, lead us to ideas of tempo, dynamics, character—all musical considerations that inform early technical decisions. It is musical conception that makes possible intelligent fingering and bowing decisions. Engaged emotions help us to imagine a mood that tells us whether to play on the A or D string; it's feeling a tempo and knowing the length and shape of the phrase that generates a bowing solution. The Schubert "Arpeggione" Sonata is as difficult technically as almost anything written for the cello, but we really need to be thinking music right from the beginning.
Sure, complex or technically demanding repertoire, new music, unfamiliar music, requires early technical work, and wood-shedding the notes can be a prerequisite. And sometimes a new work makes no initial musical sense so we must first "just learn the notes". These notes will gradually begin to speak to us and the meaning of the music will slowly reveal itself, but only if exploring and experimenting with musical and interpretive thought is part of the process. Purely technical study should be more the exception than the rule.
Music should be part of early practice because the experience of first beginning a work can be the time we are most turned on by it. It's a time that our emotional and uninhibited response is often at its highest, and we should take advantage of this inspirational state. Rostropovich once told me that he would record his very first practice session because that is when he was most excited by a new piece, and that after learning it he would then listen to this first taping as a way of regaining his inspiration (recording my first reading would more likely lead me to depression!). The point is not that we all need to record ourselves at the beginning, but that if we are thinking musically from the outset, our early emotional excitement can inform and even shorten the learning process. Working only on the notes, we can lose, even kill this intuitive insight.
Here are a few suggestions for integrating musical and technical practice so that practicing develops not only instrumental mastery but imagination and creativity. Music and technique can be combined in virtually everything:
● Scales, arpeggios, thirds etc.: In addition to intonation and speed, use scales to develop beauty of sound, continuous vibrato, smooth shifts, legato string crossings. Practice scales with varying moods, dynamics and characters – dramatic scales, peaceful, angry, cheerful, sad scales and arpeggios develop articulations and bowing techniques that are our "communicative tools".
● Etudes: Dotzhauer, Franchomme, Duport, Popper may not be immortal composers, but they did their best to write etudes of musical value. Always phrase, shape, give them character and color – strive to make them better than they are and in the process, you will grow as a musician.
● Repertoire: all of the above! And waiting months before playing with piano is a waste of time - learning a sonata or concerto without the piano is like trying to see the world through a pinhole!
I've been practicing now for many decades and it is still a joy—I wish you the same rich, musical experience!
-Paul"
As founding cellist of the legendary Cleveland Quartet, cellist Paul Katz made more than 70 recordings, received 11 Grammy nominations, 2 Grammy Awards - and recorded the Schubert Quintet for 2 cellos with Yo-Yo Ma | A member of the cello and chamber music faculty at New England Conservatory, he is the Founder and Artistic Director of CelloBello.com and is the principal character of the 2016 film "Talent has Hunger" - available now on iTunes and Amazon
Do you have a burning question for one of the Pros? Simply email: [email protected]