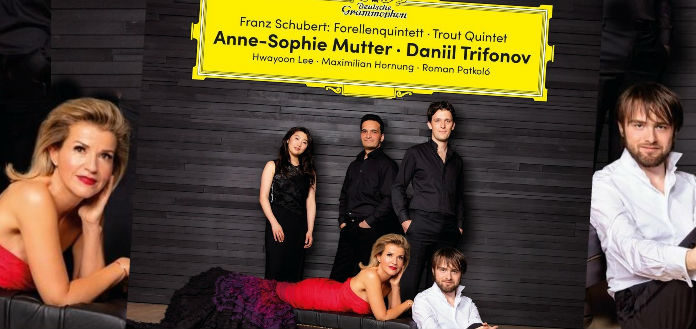 Deutsche Grammophon has this month announced the release of violinist Anne-Sophie Mutter and pianist Daniil Trifonov's new album 'Trout Quintet'.
Recorded with Mutter Foundation alumni, violist Hwayoon Lee, cellist Maximilian Hornung, and bassist Roman Patkoló, the new disc features Schubert's landmark 'Trout' Piano Quintet in A major - plus Schubert's sublime late work 'Notturno' and violin and piano arrangements of his songs 'Ständchen' and 'Ave Maria'.
"It was a spontaneous idea to work together .... but I was stalking Daniil for several years ..." Ms Mutter has said with a laugh.
"I was in Moscow when he won the Tchaikovsky Competition in 2011 ... and the opportunity to make my first recording of the Trout Quintet with Daniil Trifonov was too good to miss," the Deutsche Grammophon, superstar violinist has said.
Track previews available now on Amazon and iTunes: