Noah Bendix-Balgley on Composing Your Own Violin Concerto Cadenzas
VC Artist Noah Bendix-Balgley shares his tips and insights on composing your own original cadenzas for concertos
It is customary during the classical period for one to compose a concerto cadenza — a way to display a soloist's virtuosity and original creativity on their instrument. Writing your own cadenza can be a fun and rewarding process, and brings a deeper understanding of the concerto itself. What are some guidelines for writing your own concerto cadenza?
On the eve of his Berlin Philharmonic solo concerto debut, where he performed Mozart's 5th Violin Concerto, Berlin Philh concertmaster, VC Artist Noah Bendix-Balgley shares his tips and insights for composing your own original violin concerto cadenzas.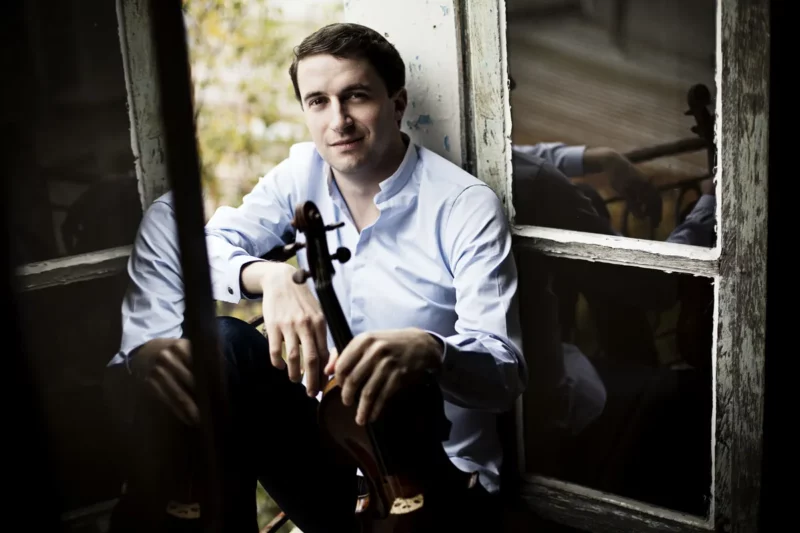 Violinist Noah Bendix-Balgley Shares Tips on Writing Your Own Cadenza
I have always enjoyed writing my own cadenzas to violin concertos. For me, this process is challenging, fun, and also extremely informative. In writing your own cadenza, you take the themes and motives that the composer uses in the work and you create something that is your own. You must consider the musical choices that the composer made in the concerto in a different light. This deepens your understanding of the music, and can actually change your interpretation of the work overall!
In the classical era, it was common practice for performers to improvise or write their own cadenzas. This was a chance for the soloists to show off their creativity and virtuosity. Occasionally a composer would put down in writing their preferred cadenza (for example the written-out cadenzas for Mozart's Sinfonia Concertante, or Beethoven piano concertos). In the romantic era, more and more composers provided the cadenzas themselves: think the Mendelssohn, Tchaikovsky and Sibelius violin concertos.
Over the years we have settled on a number of 'standard' cadenzas for the most-played concerti. For Mozart violin concertos, traditionally violinists have played the Joachim cadenzas. For the Beethoven, the wonderful Kreisler cadenza is preferred. For Brahms, again Joachim.
I think it is a wonderful development in recent years that more and more soloists compose and perform their own cadenzas. It offers a personal and new take on pieces we know and love, and we can see a different side of the performers creativity as well.
I first wrote my own cadenza to a concerto when I was 8. It was to Viotti's Concerto No. 23 in G major. The cadenza was probably much too long and complex for the movement it was attached to, but I had a great time writing it! Since then I have written cadenzas for some of the Mozart concertos, and for the Beethoven concerto.
A few guidelines I try to follow when writing my cadenzas:
Generally I try to stay in the style of the composition itself, particularly in harmonic terms. If I am writing a cadenza for a Mozart Concerto, I don't want a chord progression or a modulation to sound like it belongs to Mahler rather than Mozart! On the other side of the coin though, I like there to be one or two harmonic surprises in the cadenza. If it simply stays in the tonic key of the piece, there isn't enough development or surprise. The cadenza should offer a new light on themes and motives of the work. I try to combine two different melodies from the work, or build in some two-voice imitation.
The proportions of the cadenza's length to the movement's length is very important too. For a Mozart concerto 1st movement, between one and two minutes is about right for the cadenza. For the huge 1st movement of Beethoven, a longer, more involved cadenza is appropriate, perhaps three minutes. In terms of the technical demands of the cadenzas, I do think it is a chance for the soloist to show off, so the technical difficulty of the cadenza should be at least that of the piece itself, but usually a bit more. (For me that means lots of double-stops, which I usually regret having written as soon as I start to practice the cadenza in earnest!)
The process of writing the cadenza is fascinating and challenging work. I start by simply playing around on the violin. I take different melodies and motives from the concerto, and start to improvise a little. This way I assemble a number of potential ideas that I might include in the cadenza. Then comes the hard work of pasting them together into a coherent whole, which for me takes quite a bit of time. Finding the right pacing of the cadenza is important. The final cadenza must have a structure and tell it's own story without meandering. Getting out of the cadenza with momentum to bring in the orchestral tutti is also important. And a small practical point: it is always good to play the last measure of your cadenza in a clear tempo. To be precise, the tempo of the orchestral entrance that follows. This makes everyone's life easier: the orchestra, the conductor, and especially you as the soloist.
So happy composing! I hope to hear your new cadenzas soon!
-Noah
Do you have an idea for a blog or news tip? Simply email: [email protected]
VC ARTIST NOAH BENDIX-BALGLEY | BEETHOVEN VIOLIN CONCERTO | 3RD MVT ORIGINAL CADENZA 
VC ARTIST NOAH BENDIX-BALGLEY | MOZART VIOLIN CONCERTO NO. 5 IN A MAJOR  | 1ST MVT ORIGINAL CADENZA 
A graduate of Indiana University Jacobs School of Music and the Hochschule für Musik und Theater Munich, where he studied with Mauricio Fuks, Christoph Poppen, and Ana Chumachenco, Noah Bendix-Balgley is former Concertmaster of the Pittsburgh Symphony Orchestra — and has served as 1st Concertmaster of the Berlin Philharmonic since 2015.